Bar Flies Welcome.
---
Fabulous Food Bar
Give the people what they want. Let your guests enjoy creating their own culinary masterpieces from a host of classic Constantino's Market fabulous food bar menus:
Salad Bar – Farm-fresh produce gets its moment on the spotlight
Chili Bar – A crowd-favorite with all the traditional fixings
Taco Bar – Get festive with tasty meat, fresh toppings and more
Slider Bar – Mini size, max flavor and fresh toppings: Bet they can't eat just one.
---
Sushi Bar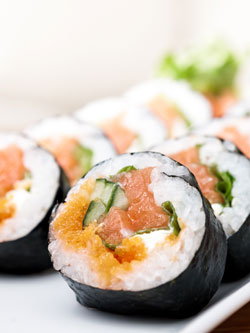 Add a fresh, hip vibe to your next gathering with a bountiful sushi sampling from Constantino's Market. Our in-house sushi chefs create culinary masterpieces ranging from traditional sushi rolls, sashimi, seaweed salad and more – all using the freshest available sushi-grade seafood, white and brown rice and select vegetables. All sushi is served with fresh shaved ginger, soy sauce and organic wasabi.
Sushi Bar is a minimum four dozen piece order.
---
Boxed Lunch Bar
Working through lunch just got a whole lot more agreeable. For on-site grab-and-go goodness, our boxed lunch is the perfect solution that's big on convenience and taste and gets you back on track fast! Our box lunch bar features a variety of mix-and-match boxed lunch options so you can give everyone what they want.
---
Sandwich Boxed Lunches
Constantino's Market's sandwich boxes are just like Mom packed, only better. Our lunch boxes feature your choice of a deli sandwich or wrap with all the fixings. Turkey & Provolone? Lemon Almond Chicken? Three Cheese & Cucumber? The choice is yours.
---
Pizza Bar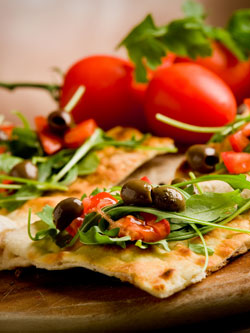 Authentic Italian pizza hand-made by our chefs: It doesn't get any better than this. Create the ultimate pizza bar by choosing from our signature pizzas or select from our fresh toppings to create your own. Options abound for any palette and taste – choose from traditional with cheese, Constantino's signature white pizza, the house specialty pizzas, veggie or your custom creation – all available in full and half sheet sizes.
Pasta Bar
Buffet or boxed, White or red. Constantino's Market authentic, mouth-watering Italian pasta dishes deliver old world flavor just like Great Grandma used to make. Leftovers and doggie bags are highly unlikely.
---
Pasta Buffets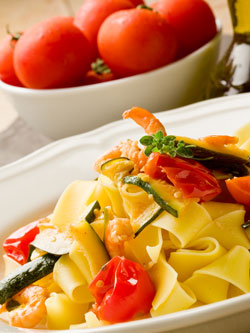 Start with our house-made sauces like tomato basil, traditional Alfredo, pesto or meat sauce and then build your taste experience with a host of traditional entrées like Eggplant Parmesan or Stuffed Shells and fresh bread and salad on the side. It's a complete taste sensation all made to please your palette. Ciao!
---
Boxed Pasta Meals
If you're looking for a simple, heartier lunch or dinner option, then our boxed pasta meals fit the bill. Fresh, house-made marinara and Alfredo sauces, old-world family recipes, peak-of-season flavors – these pasta dishes, available in both meat and vegetarian options, will have your mouth watering the moment you open the lid.
---
Brunch Bar
Wake up and be awesome with brunch from Constantino's Market. Ease into the day with a bountiful brunch that satisfies every taste, blending the best of breakfast and lunch fare in one fabulous spread. Signature breakfast items like frittatas, burritos and pastries play well with lunch favorites like our house specialty salads, gourmet wraps and fresh fruit displays.
---
Dessert Bar
Bakery and desserts from Contatntino's Market – what a beautiful thing! Our custom-created dessert bar is an indulgent sampling of our premium bakery arranged in a knockout display that will capture your guests at hello. Choose from any of our fresh-baked premium bakery items and then add fresh fruit, candy, gourmet chocolates, holiday tortes, cakes, cookies – the possibilities are endless!