1278 West 9th Street
Cleveland, OH 44113
P. 216.344.0501
F. 216.344.0513
Hours of Operation:
Mon-Fri: 7:00 am – 10:00 pm
Sat: 9:00 am – 10:00 pm
Sun: 9:00 am – 8:00 pm
Closed Thanksgiving & Christmas
We're the fresh market that feeds your exciting urban life, right in the heart of the Warehouse District in Downtown Cleveland.  We have the freshest fruits and vegetables, choice-cut meats, a premier bakery, daily deli and chef-prepared foods, an amazing selection of wine and beer, your essential groceries and over 150 locally sourced items.  All hand-picked especially for you.  With indoor and outdoor seating and free Wi-Fi.
This is your life.  This is your market.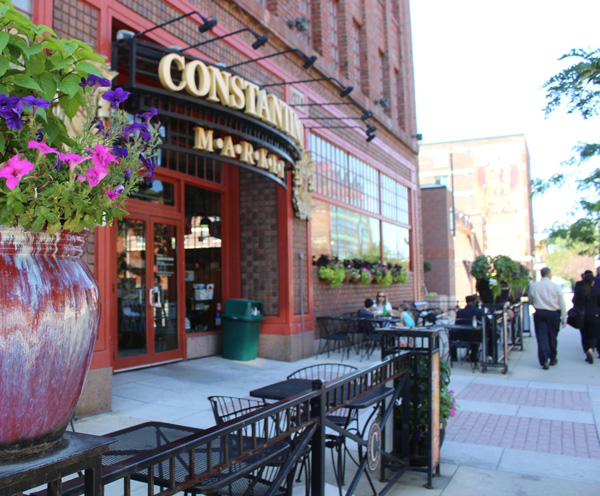 Welcome to the Food Movement
---

Bakery
Fresh-baked goodness abounds with a tempting selection of Artisan breads, specialty cakes and pastries that changes at the whim of our master baker. Whether you're craving carbs or gluten-free, this is your happy place.
Deli
Step up to the counter: Variety is the spice of life with all the makings of a stacked sandwich or grand charcuterie platter—gourmet olives, pickles, spreads, quality deli meats and cheeses, with a host of kosher selections.


Prepared Foods
There's good reason your mouth starts to water when you walk through the door. Our chef delights in creating the delectable: New recipes and family classics…full meals and quick sides…even vegetarian and vegan. Stop in to see what's fresh and hot today!
Grab n Go
Fresh sandwiches and wraps, granola and snack bars, trail mixes, healthy energy foods: Find a huge assortment of delicious, fresh and healthy foods and snacks so you can grab what you need and get on with your day.

Fresh Sushi
Innovative, authentic Japanese sushi and sashimi is prepared fresh daily and by special-order, for on-the-go cuisine that is as pleasing on the eyes as it is mouth-watering and healthy.

Produce
Organically grown and locally sourced, discover a changing selection of vibrant, flavorful fruits and vegetables—always at the peak of freshness. Stop in to sample nature's finest with beautiful, in-season produce delivered daily – and feel good about eating what's good for you.

Dairy
We believe in feeding our bodies well and you'll find a variety of hormone-free, free-range, non-GMO dairy, lactose-free products, tofu and soy-based items to round out your grocery list.

Frozen Foods
This is our town. And we're proud of our local market fare, which you'll discover in our freezer section—think local ice creams, fresh pastas, pierogis and stuffed cabbage rolls—along with all the everyday basics.
Grocery/Dry Goods
Grocery shopping should be easy and convenient. We believe it should also be unique to your neighborhood: Stop in to find your favorite locally-made products, regional labels and seasonal items, as well as all of your national-brand staples.

Beer & Wine
Craft brews are having a moment—and we're all over it, with the area's best selection of local ales and lagers alongside boutique and cult wines. Stop in and explore more than 1,100 domestic and imported wines. Friendly, knowledgeable staff can help you with the perfect pick or pairing.

Specialty Cheeses
Boasting a gourmet, hand-cut cheese selection that is truly unmatched—and tended by a well-educated staff—we'll help you select the perfect complement for any occasion or recipe. Taste testing is strongly encouraged.

Salad Bar
Create your vegetable masterpiece from an incredible selection of all things salad-worthy: Lettuces and greens, raw organic vegetables, pickled produce, cheeses, seeds and nuts, homemade dressings, and more.
(Warehouse District and University Circle Market stores only)

Pizza
Get ready for the good stuff: Prepared with the freshest available ingredients we make our now-legendary pizza varieties, or your custom orders, with pride. Have it fired here or grab and go for at-home baking.
(Warehouse District and University Circle Market stores only)

Health & Beauty
Helping you care for your body from the inside out, we stock a quality selection of vitamins, herbs and supplements as well as natural beauty and bath products to keep you looking and feeling your best.


Floral
If you ask us, green is the new black. There's just something invigorating about fresh-cut flowers or a beautiful blooming plant. Stop in and grab a pick-me-up for yourself or for someone special.

Catering
Make it easy on yourself! Our custom catering services deliver with the fresh, vibrant flavors and gourmet presentation that make your occasion memorable—for all the right reasons. Click here for more information about catering services.