Constantino's lunch options have become local favorites, featuring the very best locally sourced ingredients like hand-selected meats and seafood, crisp vegetables, fresh-baked artisan breads and sweet-treat desserts.
Trust us, no one walks away hungry.
---
Sandwich Boxed Lunches
Constantino's Market's sandwich boxes are just like Mom packed, only better. Our lunch boxes feature your choice of a deli sandwich or wrap with all the fixings. Turkey & Provolone? Lemon Almond Chicken? Three Cheese & Cucumber? The choice is yours.
"I have been working with Constantino's Market for our corporate lunches, meetings and various functions in the office for several years now. I can't imagine there would be anything to improve on. It has been a pleasure to work with the staff there. The staff and delivery team have always been helpful, courteous, professional and on time. I look forward to many more years of great service."
-Deborah, Deloitte
---
Salad Boxed Lunches
Fresh-prepared salad lunch boxes are the ideal option for a mid-day meal that's light yet satisfying. Choose from our entrée salads and then add a protein – choose from grilled chicken, salmon or shrimp. With the included fresh bakery roll and chef's choice cookie, you've got happiness in a box.
---
Sandwich & Deli Trays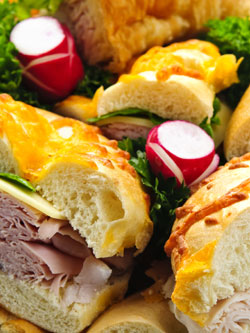 Variety is the spice of life and you'll find it in our loaded deli trays with specialty sandwiches or wraps. Constantino's Market's serve-yourself platters are brimming with store-baked top round roast beef, pastrami, baked ham, hard salami, turkey breast, gourmet cheeses – you tell us what you want and we'll put it together. Or go vegetarian style with pickled and grilled vegetables, cheeses, hummus, gourmet olives and more.
Soups
Yes, there is soup for you: House-made by our chefs every day, our soups are the ideal choice for a meal in and of themselves with hearty bakery-fresh bread or paired with a salad or sandwich.
---
Salads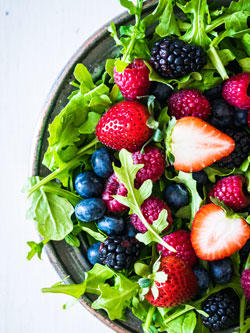 Designed with local, fresh ingredients in mind, Constantino's salads are ripe for the picking, always fresh and bursting with flavor. From our simple Garden Salad to edamame tossed in a Dijon vinaigrette, to our creamy Monterey Chicken Salad, we have salad varieties that suit your every taste and meal style.
---
Side Dishes
At Constantino's Market – fresh matters. We hand-select our vegetables and insist on only the finest ingredients, freshest herbs and quality oils to create delectable salads and side dishes that add sustenance—and panache—to every meal. Whether it's our Garlic Parmesan Pasta or our divine and delicious creamy Macaroni and Cheese, your guests will be coming back for more. And more… and more…