Every day is an occasion for fabulous food.
---
Corporate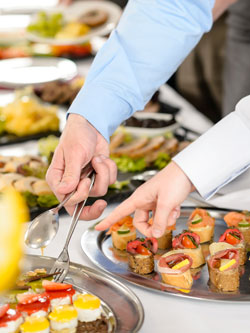 Plan your next corporate event like your reputation is riding on it. Constantino's Market delivers big for client meetings, product showcases, orientations and trainings, employee recognition events, and more. Unique, full-flavor cuisine, flexible menu planning and expert advice help to create a memorable event experience, with a tasteful finish.
And always, we're here to help: Constantino's chefs work with you to select from our myriad of tasty options to custom-build the menu and service style that suits your event profile and budget.
"Constantino's is our go-to for any office gathering. When I need a quick turnaround I can always count on them for the best food at a fair price and their friendly, fast service."
-Becky, Case Western Reserve University
---
Picnics & Grilling
Take it outside. Whether you're planning a laid-back barbeque or a more polished poolside soiree, the food and drink menu is as important as the guest list: The right mix is a must. As luck would have it, our chefs are seasoned experts in inventive meal prep, local fare and party planning—and are standing ready to help you assemble an engaging menu of delectable dishes, beverages and staging ideas to wow your crowd.
---
Game Day Parties & Tailgates
Be true to your school. Or your team. Or your cause. When you're planning a game day event or tailgate party you already have the theme, the built-in anticipation and excitement—all you need is amazing food to push it over the top. That's where Constantino's Market has got you covered!
Constantino's puts a fresh, unexpected gourmet twist on traditional game day spreads with options like black bean stuffed phyllo cups, stuffed mushrooms, hummus and roasted red pepper wraps—giving you and your guests something to cheer about, no matter the score.
Special Occasions
Our special-occasion catering mantra goes like this: Make it memorable by making it personal. We work to honor the special people and milestones in your life with a catered dining event that bows to your family traditions and incorporates new ones too.
Our skilled chefs are happy to get creative with menu planning and staging to achieve the event experience that is uniquely suited to you and those you love. Seafood lovers? Vegetarian? Kosher? We've got it. It's like managing the entire party your way, exactly the way you envisioned it should be. Only we sweat the details and you get to mix, mingle and kick up your heels.
---
Weddings & Showers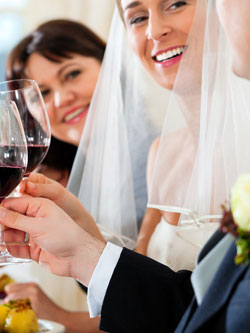 We do – as in weddings and showers, rehearsal dinners and bridal luncheons too. These are the once-in-a-lifetime special occasions you want to soak in and enjoy, without stressing about details. That's where we come in. For over 10 years, Constantino's Market has delighted customers by creating exceptional guest experiences.
Our skilled chefs and planning staff work to bring your event vision to life with gourmet cuisine featuring the very best in fresh ingredients and local flavor, from traditional to trendy, with inventive staging and professional staff to match. We bring it all together to help you create a unique and memorable event that is all your own.
---
Formal Events & Cocktail Parties
Live in the now! Gone are the days of predictable parties with passed hors d'oeuvres followed by an obligatory sit-down dinner. At Constantino's Market, we work with you to re-write the rules and get as creative as you'd like with event planning at every stage.
Do it your way: Maybe it's tapas style dining, rotating dinner stations, the season's bounty buffet, a five- course discovery dinner—the choice is all yours. And the charge is ours to create the menus that reflect your unique event vibe. Staging. Cocktails and bar service. Fresh flowers. We work to delight your guests from every vantage point.