The holidays are just around the corner, and that means festive gatherings and get-togethers with loved ones all season long.
Whether you're attending an after-hours office party, a neighborhood celebration, or an intimate affair with friends and family, it's always nice to bring along a small treat or snack to share with the group.
Of course, that doesn't mean you have to spend hours in the kitchen preparing a dish from scratch! Below are 3 festive and flavorful no-cook appetizers to bring along to your next holiday party.
1. Cheese & Charcuterie Plate
Cheese and charcuterie plates are the classic holiday event appetizer – and with good reason! No hungry party guest can turn down gourmet cheeses, deli meats, olives, pickles, jellies, spreads, and other accouterments.
The key to creating the perfect cheese and charcuterie platter is to include complementary yet diverse ingredients. For instance, choose a mixture of both hard and soft cheeses, as well as cheeses made from different types of milk (cow, goat, sheep, etc).
You'll also want to choose your accouterments carefully, based on the types of cheeses and meats you're using. Pickled veggies can help cleanse the palate between bites, while sweet jams, dried fruits, and honeys can counteract salty deli meats.
In the end, a perfect cheese and charcuterie tray is all about finding balance and marrying the right flavors and textures. Visit our infamous 'cheese island' to select the perfect cheeses for your next party!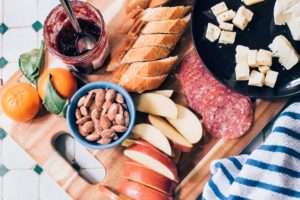 2. Gourmet Toothpick Appetizers
Bite-sized toothpick appetizers are shareable, fun to prepare, and even more fun to eat. Create mini masterpieces by pairing cheeses, deli meats, fruits, veggies, nuts, dressings, and other fresh ingredients, and securing them with a single toothpick.
Think apple slices topped with goat cheese, walnuts and a drizzle of honey, or pickled beets with arugula, feta and balsamic vinaigrette. The options are endless!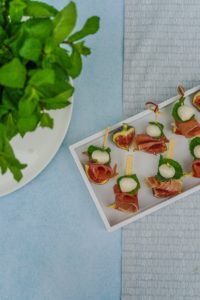 3. Fresh Bakery Items
Sweet treats like specialty cakes, cookies, pastries, and other bakery items always tend to get gobbled up by the end of the evening, too. After all, the holidays are a time for indulging and enjoying those special moments together.
What is your favorite appetizer to bring to holiday parties? Find everything you need to prepare your perfect no-cook holiday appetizers at Constantino's Market!